Das Album des Jahres
Crowded House: "Woodface" (Capitol, Juli 1991)
Auf diesem Album ist fast jeder Song ein Hit: Natürlich " Weather With You", aber z.B. auch "Fall At Your Feet" (mein persönlicher Favourit) und "Four Seasons In One Day". Zum Kerntrio um Sänger/Gitarrist Neil Finn, Trommler Paul Hester und Bassist Nick Seymour war Tim Finn gestoßen, der eigentlich nur zeitgleich mit seinem Bruder in L.A. ein Soloalbum bzw. eine Duoplatte aufnehmen wollte. Dokumentiert ist das Ganze übrigens in einer der ersten (und besten) MTV-Unplugged Sendungen vom Frühjahr 1991. Die Zusammenarbeit der Brüder klappte so gut, dass Tim zumindest für eine Saison ganz in der Band seines Bruders anheuerte.
weitere Highlights ...
Dinosaur Jr: "Green Mind" (Blanco Y Negro, Feb. 1991)
In der Grabbelkiste gefunden!


(19.07.2009)
Mehr ...
Eleventh Dream Day: "Lived To Tell" (Atlantic, Feb.1991)
Mehr ...
Roger McGuinn: "Back From Rio" (Arista, Feb. 1991)
Hier zuerst eine kleine Anekdote: Ich kam im Frühjahr 1991 in Lothars Plattenladen in Wesel, als da ein mir unbekanntes Lied mit typischer Byrds-Gitarre (12string-Ricky) lief. Ich stutzte und dachte noch: das klingt aber auch verdammt nach Elvis Costello! Es stellte sich dann natürlich als "You Bowed Down" von der brandneuen McGuinn-Platte heraus, komponiert von (ihr werdet es erraten) Elvis Costello. Da war ich natürlich schon ein bisschen stolz auf meine Ohren.
Auch der Rest der Scheibe ist nicht schlecht, als Begleiter und/oder Songschreiber tun sich zum Beispiel Tom Petty, sein Gitarrist Mike Campbell und sein Drummer Stan Lynch hervor. Man kann auch unschwer erkennen, dass sich Tom Petty und seine Herzensbrecher viel Inspiration von den Byrds geholt haben. Leider hat McGuinn danach nichts erwähnenswertes mehr zustande gebracht.
Julian Cope: "Peggy Suicide" (Island, März 1991)
Der Mann war früher mal der Kopf von Teardrop Explodes, die ich als Teil der New-Wave-Szene Ende der 70er kaum wahrgenommen habe (jetzt im Nachhinein gehört klingen T.E.-Alben ganz OK). Aber erst seine Soloalben haben mich auf ihn aufmerksam gemacht. Das fing an mit einer merkwürdigen Platte, auf der er sich mit einem Schildkrötenpanzer ablichten ließ ("Fried" von 1984), dann kam ein (natürlich erfolgloser) Versuch, die Charts zustürmen ("Saint Julian" von 1987). Bei "Peggy Suicide" schlägt der Kommerzpendel wieder zurück, aber auf einem derart hohen künstlerischen Niveau, dass man ohne rot zu werden von einem Meisterwerk sprechen kann!
Mehr ...
Jerry Garcia/David Grisman (Acoustic Discs, März 1991)
Dies ist die erste CD einer ganzen Reihe von Duoplatte, die Jerry Garcia und sein alter Bluegrasskumpel "Dawg" Grisman aufgenommen haben - und wohl auch die Beste (nach Jerry's Tod hat Grisman weitere Bänder aufbereitet, die alle irgendwie nicht schlecht sind, aber eben nicht so gut wie dieses Album). Live eingespielt und von Jim Kerwin (Bass) und Joe Craven (Perkussion & Geige) unterstützt gibt's den Dead-Klassiker "Friend Of The Devil" in einer tollen Version (Grisman war 1970 auf der Originalversion auf "American Beauty" schon mit seiner Mandoline dabei!), Hoagy Carmichaels "Rockin' Chair", Irving Berlin's "Russian Lullaby", den Bluesklassiker "The Thrill Is Gone" und als Höhepunkt ein furioses Gitarren-Mandolinen-Duell ("Arabia").
Elliott Murphy: "12" (New Rose, März 1991)
Das französische New Rose-Label war damals für einige schöne Musik verantwortlich. Oft waren das amerikanische Sänger oder Bands, die in ihrer Heimat nicht (mehr) die richtige Anerkennung bekamen. Elliott Murphy ist so einer.
Mehr ...
Massive Attack: "Blue Lines" (Virgin, April 1991)
Ist das jetzt Hip-Hop? Oder Trip-Hop? Keine Ahnung, eben nicht mein Fachgebiet. Aber auch mir als "Außenstehendem" ist das Album aufgefallen. Mit dem berühmen Billy Cobham-Sample im Single-Hit "Safe From Harm" ("I was looking back at her, if she was looking back at me ...").
Mekons: "The Curse Of The Mekons" (Sin, April 1991)
1990 gab's einen kurzen Flirt mit dem Majorlabel A&M. Dabei entstand die abgedrehte Maxi "F.U.N. 90", die die Plattenbosse wohl ziemlich verschreckt haben muss. Beim alten Heimatlabel Sin ging's dann aber in aller Frische weiter. "Curse" steigert noch mal das, was "Rock N' Roll" schon andeutete!
This Mortal Coil: "Blood" (4AD, April 1991)
Der dritte Streich von Ivo Watts-Russell, hauptberuflich Labelboss von 4AD, und dem Produzenten John Fryer erschien völlig überraschend mit 5jährigem Abstand zum genialen Vorgänger "Filigree & Shadow". Aufbauend auf dem allgegenwärtigen Streicherensemble um Martin McCarrick, Sally Herbert und Jocelyn Pook wurden wieder viele Gäste eingeladen (u. a. Tanya Donnelly und Kim Deal von den Breeders, Heidi Berry, Caroline Crawley von Shelleyan Orphan), um sphärische Eigenkompositionen von Fryer, McCarrick und Watts-Russell und ungewöhnliche Coverversionen aufzunehmen, z.B.: "With Tomorrow" (Gene Clark/Byrds), "You And Your Sister" und "I Am The Cosmos" (Chris Bell/Big Star), "Nature's Way" (Randy California/Spirit), "Late Night" (Syd Barrett/Pink Floyd) und "Help Me Lift You Up" (Mary-Margret O'Hara).
Elvis Costello: "Mighty Like A Rose" (Warner, Mai 1991)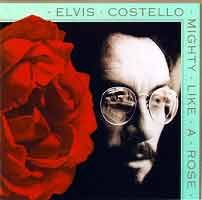 It's like the anger thing. It's only as useful to you as you can employ it. You can't always be in a rage about everything, a curmudgeon. I mean, why would anyone be like that? You'd just make yourself miserable. I guess there are people like that but I'm not one of them. Maybe what you learn over a period of time is how to use it, like a beam on a particular thing you're moved to write about...As for hate, on the evidence of Mighty Like A Rose, I'd have to say yes, I don't consciously invite it, it's just the way it is". (EC)
Elvis hat hier eine Band von Spitzenkönnern um sich versammelt, die sich aber alle den Songs unterordnen: Larry Knechtel (p), Marc Ribot (g), Mitchell Froom, Nick Lowe (bg), Jerry Scheff (bg), Jim Keltner (dr), aus New Orleans die Dirty Dozen Brass Band u.v.a.
Richard Thompson: "Rumour & Sigh" (Capitol, Mai 1991)
Wie immer in den 90ern: ein gutes Album mit scheußlichem Cover von einem der besten britischen Songschreiber und Gitarristen, der seit einiger Zeit in den USA beheimatet ist. Vom Keyboarder Mitchell Froom in L.A. betreut und mit dessen "üblichen Verdächtigen" eingespielt: Jim Keltner (dr) und Jerry Scheff (bg). Folkloristische Akzente setzen alte Kollegen aus britischen Folkrocktagen: Simon Nicol (g), Clive Gregson+Christine Collister (v), John Kirkpatrick (acc), Aly Bain (vio) und Phil Pickett (Blasinstrumente). Für mich wird dieser Mann komplett unterschätzt, denn wo gibt es schon mal jemanden mit zwei solchen Ausnahmetalenten? Da fällt mir höchsten noch Bruce Cockburn ein.
Yo La Tengo: "That Is Yo La Tengo" (City Slang, Mai 1991)
Wiedergefunden in der Grabbelkiste!


(24.01.2014)
FSK: "Son Of Kraut" (Sub Up, Juni 1991)
Diese Band aus München um den Sänger, Gitarristen, Kornettspieler, Lapsteeler, Buchautor und Radio-DJ Thomas Meinecke hat einen interessanten Wandel durchgemacht: gegründet in der Zeit der "Neuen Deutschen Welle" hat man sich aber zunehmend mehr für amerikanische Musik interessiert und diese Album sogar in Virginia unter der Mithilfe von David Lowery (Camper Van Beethoven, Cracker) aufgenommen.
Graham Parker: "Struck By Lightning" (Demon/RCA, Juni 1991)
Mehr ...
Blue Aeroplanes: "Beatsongs" (Chryalis/Ensign, Aug. 1991)
Obwohl die Band aus Bristol schon mehrere Alben veröffentlicht hatte, erreichten sie erst mit diesem zweiten Major-Release auch außerhalb Englands etwas größere Aufmerksamkeit. Dabei wird hier "eigentlich" nur ganz normale gitarrenorientierte Rockmusik geboten, allerdings gleich mit drei (!) Gitarristen, wie damals bei Lynyrd Skynyrd (das ist aber Gott sei Dank die einzige Gemeinsamkeit!). Im Mittelpunkt stehen die Texte von "Sänger" Gerald Langley, den man eigentlich eher "Sprecher" nennen müsste, da er definitiv ohne Melodien auskommt und die einzige Konstante in den wechselnder Bandbesetzungen ist. Sollte ein Lied dann doch mal eine richtige Melodie brauchen, so übernimmt das Singen dann einer der drei Gitarristen. Zum festen Lineup gehört auch ein polnischer Tänzer (!). Davon, dass das Ganze keine Spinnerei von Engländern ist, konnte ich mich mal bei einem Liveauftritt in einer Halderner Dorfdisco überzeugen. "Beatsongs" enthält klasse Songs, z.B. die Single "Yr Own World" und meiner Lieblingsnummer "Cardboard Box" und die Coverversion von Paul Simon: "Boy In The Bubble".
Mehr ...
Van Morrison: "Hymns To The Silence" (Exile, Sep. 1991)
Mal wieder ein grandioses Album des Meisters der tiefen Gefühle. Das Ganze ist dann auch noch eine Doppel-CD und trotzdem völlig ohne Überflüssiges. Neben Vans Songs (herausragend: "Take me Back", das den Geist von meisterlichen Liedern wie "Common One" und "Listen To The Lion" wieder aufleben lässt) und Gesang steht die Orgel von Georgie Fame im Mittelpunkt.
Nirvana: "Nevermind" (Geffen/Sub Pop, Sept. 1991)
Im Sommer '91 war ich mit ein paar Kumpels auf dem Spex-Festival im Kölner Tanzbrunnen. Da ich mich damals nach einem Unfall beim Tanzen (wirklich!) nur mit Krücken bewegen konnte, kann ich mich noch gut daran erinnern, wie ich die ganze Zeit dort nur herumsaß und der Musik lauschte. Eigentlich war ich ja nur wegen Sonic Youth da. Es spielten aber auch Nirvana, die ich nur dem Namen nach von einem SPEX-Artikel zu ihrem ersten (und nach meinem Geschmack nicht so dollen) Album "Bleach" her kannte: und sie waren total beeindruckend, stachen aus dem Lineup des Festivals deutlich heraus. Im Herbst stand dann "Nevermind" im Plattenregal von Lothars "Popshop" in Wesel und ich habe mir das Album dann aufgrund des guten Eindrucks von dem Auftritt zugelegt. Allerdings ging ich immer noch davon aus, dass es sich dabei um das übliche Insiderding handelt, bis mich Lothar darauf aufmerksam machte, dass die Platte sich "ziemlich gut" verkaufen würde, was ich damals kaum glauben konnte. Trotzdem hat dann keiner von uns damit gerechnet, dass im Frühjahr 1992 mit der Single "Smells Like Teen Spirit" DERMASSEN die Post abgehen würde!
Mehr ...
The Perc Meets The Hidden Gentleman: "Lavender" (Strange Ways, Sept. 1991)
Das Meisterwerk des inzwischen zu einer kompletten Band angewachsenen Duos Tom Redecker und Emilio Winschetti - und außerdem ein (ACHTUNG UNCOOL!) KONZEPTALBUM über die uralte die Kulturpflanze Lavendel. Für den Song "The Moon On Both Sides" würden Pink Floyd wahrscheinlich über Leichen gehen.
American Music Club: "Everclear" (Alias, Okt. 1991)
Der American Music Club war das Vehikel des Sängers und Songschreibers Mark Eitzel. "Everclear" war das letzte Album bei einem Independentlabel, bevor irgend jemand bei Virgin auf die Idee kam, den AMC groß herausbringen zu wollen. Nach zwei künstlerisch ebenso gelungenen Major-Veröffentlichungen war dann Schluss, der Club schloss seine Pforten. Wir hören auf allen Alben der Band wunderschöne, aber doch tieftraurige Musik. Nichts für Selbstmordgefährdete.
Bruce Cockburn: "Nothing But A Burning Light" (Columbia, Okt. 1991)
Den kanadischen "Politrocker" hatte ich eigentlich gar nicht auf meiner Rechnung - und dann ausgerechnet bei einem großen Laden eine dermaßen gute Produktion (dank T-Bone Burnett!), klasse Songs, Gesang und Gitarre von Cockburn und eine ganz feine Begleitband: Booker T. Jones (Orgel), Jim Keltner (Schlagzeug) und Edgar Meyer (Kontrabass), ergänzt durch interessante Gastmusiker: u.a. Mark O'Connor an Geige und diversen Saiteninstrumenten, sowie Jackson Browne und Burnett's Gattin Sam Phillips im Backgroundchor.
The Cocoon: "Stretching Things" (What's So Funny About, Okt. 1991)
"Psychedelik-Rock & Fusion-Jazz" - ein blödes Etikett, aber es ist schwer den Stil dieser Platte zu beschreiben. Vielleicht einfach die beteiligten Musiker erwähnen? Jazzlegende Gunther Hampel an Vibraphon, Keyboards und Blasinstrumenten, Gitarrist und Toningenieur Matthias Arfmann (Kastrierte Philosophen), Sänger/Gitarrist Jürgen Gleue von den legendären 39 Clocks und Schlagzeuger Rüdiger Klose (Kastrierte Philosophen und auch Mitwirkender bei den 39 Clocks). Eine starke und unvergleichliche Platte!
Garland Jeffreys: "Don't Call Me Buckwheat" (RCA, Okt. 1991)
Nach fast 10jähriger Pause mal wieder ein Album des New-Yorker Querdenkers, der hier seine Lebensgeschichte als Mischlingskind zwischen Schwarzen und Weißen thematisiert. Es gibt mit "Hail, Hail, Rock'n'Roll" sogar eine Single, die zwar nicht die Charts stürmte, aber viel Radio-Airplay bekam. Wie immer bei Jeffreys war das eigene Material überzeugend (auch mit modernen Hiphop-Elementen) und die musikalische Umsetzung perfekt. Dafür sorgten u. a.: Steve Jordan (dr), Sly & Robbie (Jamaikas beste Rhythmusgruppe), Hugh McCracken (g), Paul Griffin (p), Mike Brecker (sax), Bernard Purdie (dr), G. E. Smith (g), Vernon Reed (g) und auch sein alter Weggenosse Alan Freedman (g).
Talk Talk: "Laughing Stock" (Verve, Okt. 1991)
Wenn das keine Veradelung ist! Auf dem amerikanischen Jazzlabel Verve erscheint der Schwanengesang von Mark Hollis (die anderen Bandmitglieder, Bassist Paul Webb und Drummer Lee Harris, spielen eine eher untergeordnete Rolle).
Teenage Fanclub: "Bandwagonesque" (Creation, Nov. 1991)
Ein kleine aber feine Gitarrenband aus Schottland, die nie an der Spitze, aber immer spitzenklasse war und alle Strömungen - auch den Britpop - überlebt hat.
Mehr ...
Sister Double Happiness: "Heart And Mind" (Reprise, Dez. 1991)
"Blueshardrock" (i.w.S.) vom Feinsten. Das zweite Album der Band um den schwergewichtigen Sänger Gary Floyd, Ex-Punkrocker und bekennender Schwuler, der sich auch in seinen wunderschönen Liebestexten nicht versteckt, sondern ganz offen von "him" singt. Da das Album nach dem SST-Debüt von 1988 bei einem Majorlabel erschien, wird es von vielen als das schwächere Album eingeschätzt, aber ich kann diese Einschätzung nicht teilen (SST=Independent=Kult, Reprise=Major=Pfui). Zwar werden zwei Songs vom Debüt in neuen Versionen unter die Leute gebracht ("Sweet Talker" und der Ohrwurm "You Don't Know Me"), dazu kommt aber mit "Exposed To You" ein Konzert-Highlight und mein absolutes Lieblingsstück von der Band. Zudem gibt es neben dem härteren Bluesrock der Band, nicht unähnlich dem mancher großen Bluesrocker aus den 70ern (z.B. Free oder ZZ Top), sogar mit "The Sailor Song" einen wunderschönen Countrysong und in der abschließenden Ballade "You For You" zeigt die Trommlerin Lynn Perko (live sehr beeindruckend!) auch am Klavier ihr Können. Natürlich (?) war die Platte bei allen Anstrengungen auf dem Mainstreammarkt ein totaler Flopp. Ach ja - und irgendwo auf der Platte macht unser guter alter John Cale "Radar Blips".
Mehr ...
Biff Bang Pow! "L'amour, Demure, Stenhousemuir" (Creation, 1991)
Alan McGee ist eigentlich Labelboss bei Creation (und somit mit Oasis zu Geld gekommen) und betrieb zusammen mit dem Gitarristen Richard Green diese "Hobbyband". Das vorliegende Album fiel mir, muss ich gestehen, zuerst wegen des Coverfotos auf (Hach ja!), blieb aber dann wegen der wunderbaren und zerbrechlichen, an den späten 60ern orientierten und trotzdem nicht altmodischen Gitarrenmusik lange auf meinem Plattenteller. Der Covertext macht es zwar nicht deutlich, aber es handelt sich um eine Single/Maxi-Compilation der Jahre 1984-91.
Monks Of Doom: "Meridian" (Baited Breath, 1991)
Im Prinzip sind das hier Camper Van Beethoven ohne deren Sänger David Lowery, also Bassist Victor Krumenacker, Gitarrist Greg Lisher und Drummer Chris Pedersen, zusammen mit Gitarrist David Immerglück.
Matthew Sweet: "Girlfriend" (ZOO, 1991)
Kaum von der Öffentlichkeit beachtet bringt der Gitarrist, Bassist, Sänger & Songschreiber wunderbare Alben heraus. Daneben war er mir nur am Rande als Mitspieler bei Lloyd Cole und Anton Fiers Golden Palominos aufgefallen. Tolles Cover, nicht wahr?
Union Carbide Productions: "From Influence To Ignorance" (Radium/MNW, 1991)
Tolle Platte! Hatte ich völlig vergessen und erst jetzt, wo Ebbot Lundbergs neue Band "The Soundtrack Of Our Lives" auch bei uns bekannter wird (u. a. durch den tollen Auftritt beim Haldern Openair!) und ich die alte CD rausgekramt habe, fällt mir das wieder auf. Allerbester SCHWEINEROCK aus Schweden!!! Iggy, eat our heart out!


(10.11.2004)
Mehr ...
The Wellsprings Of Hope: "Phonograph" (Safety Net, 1991)
"Garagesoul" von Pat Johnson aus San Francisco, den der eine oder andere von Euch vielleicht als Gitarrist und Songschreiber von/für Penelope Houston kennt, zusammen mit zahlreichen Mitstreitern aus der Bay-Area-Szene. Singer/Songwriter- Musik mit Wurzeln im Garagenrock (=Gitarre) und Soul (=Bläser).