Das Album des Jahres
The Silos (RCA, Juni 1990)
Die Silos hatten sich nach ihren ersten beiden Alben schon wieder aufgelöst, als die beiden Bandgründer Walter Salas-Humara und Bob Rupe doch noch mal zusammen kamen - und dann auch noch für eine Veröffentlichung bei einer Major-Company! Mit dem Cowboy-Junkies-Produzenten Peter Moore entstand dieses ausgezeichnete Album, mit dem ich die Band auch erstmals zu hören bekam. Die älteren Scheiben ("About Her Steps" von 1985 und "Cuba" von 1987) musste ich mir anschliessend mit großem Aufwand besorgen: Re-Releases auf CD gab's damals noch nicht. Vor allem "Cuba" war Kult (d.h. vor allem: schwierig zu bekommen). Natürlich wurde auch diese Platte kein kommerzieller Erfolg. Salas-Humara machte danach ohne Rupe und mit wechselnden Begleitern weiter und veröffentlicht auch heute immer noch mehr oder weniger gelungene Solo- und Silos-Alben auf diversen Independentlabels, ohne aber noch mal an die Klasse von "Cuba" oder diesem namenlosen Major-Debüt heranzureichen.
Mehr ...
weitere Highlights ...
The Sundays: "Reading, Writing And Arithmetic" (Rough Trade, Jan. 1990)
Ein "One-Hit-Wonder" in reinster Form! Denn mit "Can't Be Sure" von diesem Album hatte die englische Band um das Pärchen Harriet Wheeler (Gesang) und David Gavurin (Gitarre) ihren einzigen Hit. Und der ist einfach ein wundervolles, kleines Stück Gitarrenpop. Vielleicht ist das Ganze nicht wirklich originell (die Stimme von Harriet ähnelt der von Björk, der Gitarrist hat sicherlich bei Johnny Marr genauer hingehört), aber auf jeden Fall inspiriert und gut gemacht. "Schöne Musik" im ursprünglichen Sinne.


(24.06.2006)
Mehr ...
Martyn Bates: "Letters To A Scattered Family" (Antler/Integrity, Feb. 1990)
Diese CD war ein "glücklicher Zufallskauf" beim Elektrogroßmarkt in Dinslaken: von Martyn Bates Vergangenheit als Sänger des Popduos Eyeless In Gaza wusste ich nichts - und das hätte mich wohl auch nicht beeindruckt, denn Früh80er-New-Wave-Pop war noch nie mein Ding. Auf jeden Fall machte mich das Cover neugierig. Außerdem war das komplette(?) Vorgängeralbum "The Return Of The Quiet" von 1987 mit drauf. Da mir an jenem Tag keine andere CD in's Auge sprang habe ich einfach mal mutig zugeschlagen - und damit eine sehr schöne und eigenwillige Singer/Songwriter-Perle entdeckt!
Eyeless In Gaza kenne ich inzwischen auch durch verschiedene Grabbelkisten-Aktionen näher, und finde sie auch nicht schlecht, aber richtig gut gefällt mir nach wie vor nur diese für ihn scheinbar untypische, fast folkige Platte. Martyn Bates veröffentlicht nach wie vor Musik, ist aber inzwischen wieder aus meinem "Sensorbereich" verschwunden. Eyless in Gaza sollen wohl wieder existieren und ich habe was von "Ambient Music" gelesen. Eher nicht meine Baustelle.


(08.07.2005)
Mehr ...
Blue Aeroplanes: "Swagger" (Chrysalis/Go! Discs, Feb. 1990)
Eine merkwürdige Band. Eigentlich mit ganz normalem britischen Gitarrenpop in der Smiths-Tradition, allerdinx mit drei (!) Gitarristen eingespielt. Böse Zungen behaupten jetzt wohl, es bräuchte eben drei Gitarrenspieler, um einen Johnny Marr zu ersetzen. Mir ist das völlig egal, denn live kam das wunderbar rüber mit diesem dichten und hypnotischen Klangteppich. Nicht mit Morrissey vergleichen kann man dagegen Gerard Langley, den "Sänger" der Band, denn er singt nicht, sondern "rezitiert" seine literarischen Texte zur Bandbegleitung (O.K.: ab und zu singt mal einer der drei Gitarristen "richtig", was aber nur halb so spannend ist, wie Langley beim Reden zuzuhören!). Und wie Rap klingt das jetzt auch nicht, ich kann es nicht besser beschreiben - hört Euch den Mann mal an. Eine irgendwie auffällige Bühneshow macht er auch nicht. Dafür gibt's da noch einen polnischen Tänzer, der fest zur Bänd gehört. Hier konnte ich mir zuerst überhaupt nicht vorstellen, wie das funktionieren sollte, aber im Konzert machte das dann durchaus Sinn. Und beschreiben kann man auch das nicht richtig. Irgendwas zwischen Gymnastik, Fitnessstudio und Ballett. Sehr rätselhaft. Aber irgendwie doch wieder mit Sinn.


(26.02.2006)
Mehr ...
The Chills: "Submarine Bells" (London/Slash, Feb. 1990)
Das künstlerisch gelungene, aber kommerziell wenig erfolgreiche Major-Debüt der Helden des Neusselandrocks. Da half auch die Verpflichtung des US-Produzenten Gary Smith ("Surfer Rosa" von den Pixies, frühe Alben der Throwing Muses) nicht. Hat vielleicht nicht ganz den Charme der frühen Flying Nun-Aufnahmen, ist aber trotzdem eine wunderbare Angelegenheit.
Mehr ...
The Church: "Gold Afternoon Fix" (Arista, Feb. 1990)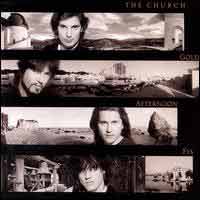 Der Nachfolger zu "Starfish", dem Album mit dem Riesenhit "Under The Milky Way". Da das ja kaum zu toppen war, kann ich nur sagen, dass sie sich auch hier ordentlich aus der Affäre gezogen haben.
Mehr ...
"Lloyd Cole" (Polydor, Feb. 1990)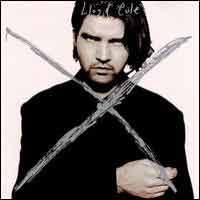 Mehr ...
"The House Of Love" (Fontana, Feb. 1990)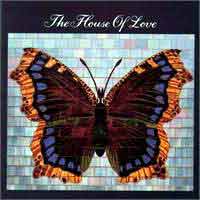 Bereits das dritte titellose Album der Band um den Sänger, Gitarristen und Songschreiber Guy Chadwick. Schon 1987 gab es gab ein gleichnamiges Minialbum auf Rough Trade/Creation mit frühen Singles. Auf beiden Tonträgern findet man den Song, der dem am nächsten kommt, was man einen Hit nennen könnte: das wunderbare "Shine On". Dazu kommt noch ein weiterer Ohrwurm: "Beatles And The Stones". Eine der besseren Britpop-Kapellen. Noel Gallagher: Eat Your Heart Out!
Ach ja - lange war ich von den zwei "House Of Love"-Alben ausgegangen, aber es gibt noch das eigentliche Debütalbum von Creation aus dem Jahre 1988, für das ich meine soeben genannte Kompilation bislang gehalten habe, das ich aber selber nicht besitze. Etwas verwirrend das Ganze - aber so was gehört wohl zum Image des obskuren und kultigen Künstlers.
Mehr ...
Cowboy Junkies: "The Caution Horses" (RCA, März 1990)
Auf der dritte Platte haben die Kanadier den Sound, mit dem sie auf der Vorgängerplatte bekannt wurden weiter verfeinert. Margo Timmins Gesang wird immer "sphärischer" (mir fällt leider nix besseres ein), die Produktion und die Songs ihres Bruders Michael Timmins werden immer perfekter. Nur sein Gitarrespiel bleibt zurückhaltend. Solistische Klangfarben überlässt er den Gastmusikern an Akkordeon, Geige, Mandoline, Harmonika und Pedal Steel. Enthält u. a. eine schöne Version von Neil Youngs "Powderfinger".
Gun Club: "Pastoral Hide & Seek" (What's So Funny About, April 1990)
Das zweite Album aus der zweiten Gun Club-Phase (bereits drei Jahre zuvor erschien "Mother Juno"). Mit "Eskimo Blue Day" von Jefferson Airplane gibt es sogar ausnahmsweise mal eine Coverversion.
Mazzy Star: "She Hangs Brightly" (Rough Trade, April 1990)
Das Debüt des Duos David Roback (Gitarre, Ex-Rain Parade, Ex-Opal) und Hope Sandoval (Gesang) mit wechselnden Begleitmusikern war eine Fortführung des Opal-Projekts, das Roback mit Kendra Smith betrieb. Auch wenn ich jetzt wie ein furchtbarer Chauvi rüberkomme: Hope Sandoval singt nicht nur als wäre sie nicht von dieser Welt, sondern ist gleichzeitig noch von einer ebensolchen Schönheit!
The Perc Meets The Hidden Gentleman: "This Maid From Delphi" (Strange Ways, April 1990)
Ein interessantes Duo aus deutschen Landen! Mit Tom "The Perc" Redecker aus Bremen und dem Berliner Emilio Winschetti (a.k.a. The Hidden Gentleman) haben sich zwei Gleichgesinnte getroffen, die eine wunderbare Mischung aus Krautrock, Folk und allem möglichen Anderen bringen. Mit diesem Album #2 habe ich die Band kennen gelernt, welches auch schon ansatzweise die Qualität ihres Meisterwerks "Lavender" von 1991 durchblicken lässt. Und eigentlich mögen die beiden ja keine Coverversionen, aber ihre Version vom Indianerlied "Heya" ist ziemlich klasse.
Thin White Rope: "Sack Full Of Silver" (RCA/Frontier, April 1990)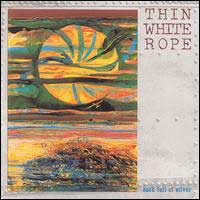 Album #4 meiner liebsten Gitarrenband aus dieser Zeit. Aus mir unklaren Gründen hat wohl auch die Industrie damals an das Potential der Band geglaubt und dieses Album veröffentlicht, genauso wie das titellose Comeback-Album der Silos. Natürlich beide ohne kommerziellen Erfolg und eine Fortsetzung der Zusammenarbeit. Trotzdem (?) eine wunderbare Platte, wie immer mit dem einzigartigen Gesang von Guy Kyser, dem Mann mit der schönsten Reibeisenstimme, sowie diesen hypnotischen, verschachtelten Gitarren-Melodien von Kyser und seinem Partner Russ Kunkel. Vielleicht ist das Album musikalisch nicht "besser" als Vorgänger "In The Spanish Cave", aber es klingt auf jeden Fall besser ("Cave" klingt aber nicht "schlecht"!). Vielleicht wegen eines größeren Produktionsetats dank der Plattenfirma RCA, sicherlich aber auch als Verdienst von Produzent Tom Mallon, ansonsten Trommler beim American Music Club. Ach ja - dieses mal gibt es (leider) keine Coverversionen.
Mehr ...
Baby You Know: "To Live Is To Fly" (Sub Up, Mai 1990)
Kennen gelernt habe ich die Junx und Mädelz aus Bayern als Begleitband von Ex-Go-Between Robert Forster, der hier bei einem Lied Gitarre spielt und mit der Geigerin der Band, Karin Bäumler, inzwischen auch verheiratet ist. Aber eigentlich hat die Band eine solches "Namedropping" gar nicht nicht nötig.
Der Sound ist extrem amerikanisch, irgendwo zwischen Lou Reed und Gram Parsons, also gar nicht so weit von dem weg, was wir mit W4L erreichen wollen.
Mehr ...
David Baerwald: "Bedtime Stories" (A&M, Mai 1990)
Mehr ...
Nick Cave & The Bad Seeds: "The Good Son" (Mute, Mai 1990)
Das "Hit-Album" . Mit "The Good Son", "Weeping Song" und "Ship Song" - Lieder für die Ewigkeit.


(24.12.2014)
Concrete Blonde: "Bloodletting" (I.R.S., Mai 1990)
Mehr ...
Shiny Gnomes: "Colliding" (Polydor, Mai 1990)
Gefunden in der Grabbelkiste ...

(27.09.2016)
World Party: "Goodbye Jumbo" (Chrysalis/Ensign, Mai 1990)
Das zweite "Soloalbum" von Karl Wallinger und dem "Band-Pseudonym" World Party. Sein wichtigster Mitspieler Guy Chambers verdiente später übrigens seine Brötchen als Bandleader und Co-Autor von Robbie Williams. Das Album enthält mit "Put The Message In The Box" sogar einen Singlehit, sodass Wallinger für kurze Zeit sogar ein wenig im Blickpunkt der Öffentlichkeit stand.
Lou Reed & John Cale: "Songs For Drella" (Sire, Mai 1990)
Bei diesem Duoprojekt fanden die beiden Velvet Underground Streithähne wieder zusammen, um eine Art Requiem für ihren ehemaligen Mentor Andy Warhol zu verfassen. Die Zusammenarbeit war so fruchtbar, dass es 1993 sogar zu einer VU-Reunion in Originalbesetzung (mit Sterling Morrison und Moe Tucker) kam. Dort haben sich die beiden dann allerdings wieder (und unwiderruflich) verkracht.
Mehr ...
Tim Buckley: "Dream Letter - Live In London 1968" (Demon/Straight, Juni 1990)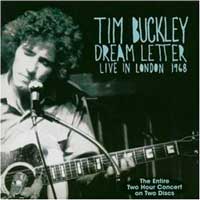 Tim Buckley am 7. Oktober 1968 live in England mit Lee Underwood (Gitarre), David Friedman (Vibraphon) und Danny Thompson (Kontrabass). Für mich eines meiner allerliebsten Livealben.
Mehr ...
John Hiatt: "Stolen Moments" (A&M, Juni 1990)
Mehr ...
James: "Gold Mother" (Fontana, Juni 1990)
Ist das schon Stadionrock? Egal, für mich sind James mit ihren hymnischen Songs ganz klar die Besten aus Manchester (Oasis: Eat Your Heart Out!). Ohne ihnen wehtun zu wollen: die "besseren U2" oder (das ist jetzt gemein!): "Thinking Man's Oasis"! Einziger Schwachpunkt: Enthält leider nicht die geniale Single "Sit Down", die wenige Monate später veröffentlicht wird (genauso wie es "Good Vibrations" nicht mehr auf "Pet Sounds" geschafft hatte!).
Beasts Of Bourbon: "Black Milk" (Normal/Red Eye, Juli 1990)
Drittes Album der australischen Band, die mal als Spaßprojekt neben den eigentlichen Hauptbeschäftigungen der Akteure gegründet wurde, aber dann viel erfolgreicher wurde.

(17.12.2008)
Mehr ...
The Black Sorrows: "Harley & Rose" (Columbia, Aug. 1990)
In ihrer Heimat "Down Under" eine große Nummer, konnte man sie in den 90ern auch bei uns gelegentlich im Radio hören. Sicherlich ist das irgendwie "Mainstream-Rock", wenn auch etwas altmodisch und schwer zu kategorisieren: "Rock/R'n'B", mit starker Affinität zur Country-Musik. Oder vielleicht: "Popmusic with Balls & Heart"? Sänger/Saxofonist Joe Camilleri, geboren auf Malta, ist ein Mann mit bewegter musikalischer Vergangenheit in Australien, u.a. war er auch der Jo bei Jo Jo Zep & The Falcons, die aber bei uns kaum jemand kannte. Das Ganze klingt in den besten Momenten wie Van Morrison, was sicherlich nicht die schlechteste Referenz ist!
Mehr ...
Prefab Sprout: "Jordan: The Comeback" (Columbia/Kitchenware, Aug. 1990)
Cocteau Twins: "Heaven" (4AD, Sept. 1990)
Robert Forster: "Danger In The Past" (Beggars Banquet, Sept. 1990)
Als sich die Go-Betweens auflösten war die Trauer groß - bis Robert Forsters Soloalbum erschien und man sogar 10, nicht nur 5 klasse Forster-Melodien bekam (auf den Go-Be'-Platten gab's immer 5x Forster und 5x McLennan). Grosse Unterstützung war bei den Aufnahmen der alte australische Weggefährte und Multiinstrumentalist Mick Harvey (Gitarrist bei der Birthday Party, Mann für Alles bei Nick Cave & The Bad Seeds, Drummer bei Simon Bonneys Crime & The City Solution), der hier produziert und vor allem mit einer geilen Schweineorgel glänzt.
Mehr ...
Neil Young & Crazy Horse: "Ragged Glory" (Reprise, Sept. 1990)
Nach dem genialen Comeback mit "Freedom", eingespielt mit zahlreichen Gastmusikern, tat sich Mr. Young hier wieder mit seinen alten Kumpeln vom Wildpferd zusammen und knallt uns dann solche Monstersongs wie "F*!#in' Up", "Over And Over", "Mansion On The Hill" und "Love And Only Love" um den Latz. Alles live im Studio und ohne doppelten Boden eingespielt. Es gibt sogar eine Coverversion: "Farmer John" von Autoren, die mir nichts sagen. Das ist was ganz Seltenes bei Neil Young: ohne nachzuschlagen fällt mir da nur "Oh Lonesome Me" von Don Gibson auf "After The Goldrush" und "Four Strong Winds" vom kanadischen Landsmann Ian Tyson auf "Comes A Time" ein.
Fellow Travellers: "No Easy Way" (Normal/Okra, Okt. 1990)
Jeb Loy Nichols (Sänger & Songschreiber) stammt aus Texas, lebt in London, träumt von Jamaika und nimmt die Platte in Irland auf. Entsprechend klingt die Musik. Wer kommt schon auf die Idee, Country mit Dub-Reggae zu verbinden? Zu Nashville/Jamaika fällt mir sonst eigentlich nur ein, dass Johnny Cash die meiste Zeit des Jahres auf Jamaika lebt und Jimmy Cliff mal in Memphis aufgenommen hat ... aber das sind andere Geschichten!
Galaxy 500: "This Is Our Music" (Rough Trade, Okt. 1990)
Jane's Addiction: "Ritual De Lo Habitual" (Warner, Okt. 1990)
Sänger Perry Farrell und Gitarrist David Navarro hatten da einen wilden Trupp um sich versammelt. War das Hardrock? Glamrock? Vielleicht sogar Grunge? Völlig egal! Klasse Platte!
The La's (Go! Discs, Okt. 1990)
Lost And Found
(24.12.2006)
Mehr ...
Merl Saunders: "Blues For The Rainforest" (Grateful Dead, Okt. 1990)
Mehr ...
Yo La Tengo: "Fakebook" (Bar-None, Okt. 1990)
Für dieses "Fan-Projekt" haben Ira Kaplin (g) und Georgia Hubley (dr) ihren alten Leadgitarristen David Schramm und dessen aktuellen Bassisten Al Greller in's Studio eingeladen. Yo La Tengo zeichneten sich immer durch den Krach/Schönklang-Dualismus aus (wie bei Velvet Undergrund, ihren großen Helden), allerdings steht dieses mal klar der Schönklang im Vordergrund. Neben einigen wenigen Eigenkompositionen wird hier vor allem den eigenen Vorbildern gehuldigt, die teilweise so obskur sind, dass auch ich sie nicht kenne. Deshalb hier nur ein paar Hinweise auf mir bekannte Songs: "What Can I Say" (Joey Spampinato/NRBQ), "Oklahoma, USA" (Ray Davies/The Kinks), "Speeding Motorcycle" (Daniel Johnston), "Andalucia" (John Cale), "You Tore Me Down" (Flamin' Groovies) und "Tried So Hard" (Gene Clark, vom Album mit den Gosdin Brothers). Nur "Here Comes My Baby" (komponiert von Cat Stevens und ein Hit von den Tremeloes) will mir nicht ganz behagen: da bin ich doch wohl (noch) etwas zu intolerant!
Mehr ...
"Rubáiyát (Elektra's 40th Anniversary)" (Elektra, Okt. 1990)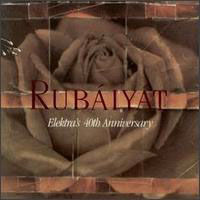 Zum 40. Geburztag von Elektra kam diese Doppel-CD heraus, auf der aktuelle Künstler des Labels vornehmlich Songs von Künstlern des Labels aus den frühen Tagen covern. Meistens geht das auch gut. OK - "Hotel California" von den Gypsy Kings brauche ich nicht, aber für einzelne Entgleisungen entschädigt zum Beispiel Jackson Brownes Version von "First Girl I Loved", im Original von der Incredible String Band.
The Bathers: "Sweet Deceit" (Island, 1990)
Mal wieder so eine Wühltischentdeckung: dem noch existierenden Preisetikett kann ich sogar entnehmen, dass das Album bereits im Juli 1991 bei Hertie in Dinslaken für DM 6.95 in der Grabbelkiste gelandet war. Das muss wohl ein klassischer Ladenhüter gewesen sein. Wie soll man jetzt eine solche Musik beschreiben, die offensichtlich nicht den Weg zum (breiten) Publikum gefunden hat? Zum einen ist Chris Thompson, der Mann der sich hinter diesem Bandnamen "versteckt", Schotte, die ja scheinbar die Melancholie erfunden haben. Dann erinnert seine Stimme ein wenig an Tom Waits. Vergleiche mit Van Morrison in seinen sperrigsten Momenten ("Veedon Fleece") sind auch nicht so ganz abwegig. Oder David Ackles (ein Vergleich nur für Eingeweihte!). Also definitiv keine ROCKMUSIK. Vielleicht sollte man das Kammerpop nennen, denn Klavier und Streicher haben einen zentralen Platz in dieser Musik?
Nach dem Misserfolg der Platte flog Thompson übrigenz nicht sofort bei Island raus, sondern durfte mit zwei zu dem Zeitpunkt beschäftigungslosen Musikern von Lloyd Coles Commotions unter dem Bandnamen Bloomsday eine weitere Platte machen, die zwar wesentlich poppiger geriet, aber (natürlich) auch dem Mainstreampublikum nicht gefiel und seine Hardcore-Fans wohl etwas verschreckt hat. Nach dieser Erfahrung tat sich Thompson mit den Leuten vom wunderbaren Hamburger Label Marina zusammen und brachte in den folgenden Jahren noch drei ganz ausgezeichnete Bathers-Alben heraus!
Mehr ...
Kolossale Jugend: "Leopard II" (L'Age D'Or, 1990)
Ohne diese Band, benannt nach dem grandiosen Debütalbum der Young Marble Giants gäb's heutzutage wohl kaum Blumfeld, Tocotronic, Die Sterne oder andere Bands der "Hamburger Schule". Nicht immer leicht zu hören für mich - aber einer großartige Platte! Vor allem die Texte von Kristof Schreuf sind zeitlos & beeindruckend, während mir aus heutiger Distanz die Musik manchmal zu hibbelig ist. Es klingt manchmal ein bisschen nach den großartigen Wedding Present, die ich aber auch nicht immer hören kann.
Ed Kuepper: "Today Wonder" (Normal/Rattlesnake, 1990)
Gefunden in der Grabbelkiste!


(04.10.2014)
Mehr ...
Mark Lanegan: "The Winding Sheet" (Sub Pop, 1990)
Solodebüt des Sängers der Screaming Trees und bei weitem nicht so "fetzig" wie seine Stammkapelle. Das ist eher ein kleines, aber feines Folkalbum mit ein paar Ecken und Kanten. Ich hör den Mann mit seinem Bariton eben sehr gerne singen, bevorzugt in einem solch ruhigen Klangraum, wie ihn sein Begleiter und Songwritingpartner Mike Johnson (Bassist bei Dinosaur Jr.) und Produzent und Tonmeister Jack Endino geschaffen haben.


(16.03.2008)
Mehr ...
Ostzonensuppenwürfelmachenkrebs: "Für Zuhause" (L'Age D'Or, 1990)
Der Bandname ist so schlecht, dass er schon wieder gut ist, und geht auf eine Schlagzeile der Bildzeitung von 1952, mitten aus dem Kalten Krieg, zurück. Die "SuWüs", wie man sie angeblich auch etwas netter nannte, waren eine der Hamburger Schrammelbands der ersten Stunde, sangen auf diesem Debütalbum hauptsächlich und mehr schlecht als recht in Englisch. Später gab's dann sogar eine instrumentale Platte und zum Ende der Bandgeschichte, Mitten in den 90ern, wurde sogar in Deutsch gesungen. Die Musik ist sperrig, aber nicht unangenehm, irgendwo zwischen dem, was ihre Labelkollegen von der Kolossalen Jugend, Blumfeld und den Sternen machen, und altem Krautrock, wie es ihn mal von Amon Düül II gab. Ehrlich!


(27.02.2006)
The Perfect Disaster: "Heaven Scent" (Rough Trade/Fire, 1990)
Viertes und letztes Album dieser wunderbaren Gitarrenband aus England um den Sänger Phil Parfitt.


(11.03.2014)
Mehr ...
Souled American: "Around The Horn" (Rough Trade, 1990)
Die Weltmeister im Langsamspielen und Weglassen aus Chicago: Im Zeitlupentempo werden hier Folksongs, Eigenkompositionen, aber auch geschmackvolle Coverversionen von Little Feet ("Six Feet Snow") und George Jones gebracht. Von Platte zu Platte spielt der Drummer übrigens immer weniger. Irgendwann haben sie ihn dann ganz weggelassen. In den letzten Jahren hat sich die Band dann fast selbst ganz "weggelassen": Man hörte nichts mehr von ihnen. Im Sommer 2002 soll aber ein neues Album erscheinen. 50 Posters About Souled American ist eine tolle Aktion. Solltet ihr euch mal anschauen.
Speed Niggs: "Another Valley On The Long Decline" (Historia, 1990)
Ein ostwestfälisches Gitarrenrocktrio in der Tradition von Neil Young, den Lemonheads und Dinosaur, Jr. um den Gitarristen Christopher Uhe, der danach auch noch mit anderen Bands am Start und ebenso wenig erfolgreich war (u.a. Locust Fudge, Great Tuna! und Sharon Stoned). Wenn mich mein nachlassendes Gedächtnis nicht täuscht, dann habe ich die Kapelle damals sogar mal live gesehen. Ich bin mir aber nicht sicher.


(14.04.2014)
Steve Young: "Long Time Rider" (Voodoo, 1990)
Ein eher unbekanntes und rares Album eines der besten und unbekanntesten und besten amerikanischen Singer/Songwriters. Bereits 1987 aufgenommen und zuerst nur als Cassette bei Liveauftritten des zu der Zeit mal wieder ohne Plattenvertrag dastehenden Sängers erhältlich, fand sich irgendwann (wie so oft!) im alten Europa ein Minilabel, das sich der Sache dann annahm. Unter den anderen Alben des Künstlers nimmt "Long Time Rider" insofern eine Ausnahmestellung ein, dass ganz auf Fremdmaterial verzichtet wird (sonst sind das meist ca. 50% der Lieder auf einer Steve Young-Platte!) und alle Texte um den gleichen Themenkomplex menschlicher Gefühle und Motive - die man ungefähr mit Schuld, Sühne, Vergeben und Liebe zusammenfassen kann- kreisen. Fast also schon eine Art "Konzeptalbum"!. Auch die Instrumentierung ist für Singer/Songwriter-Verhältnisse eher ungewöhnlich: zwar baut alles auf der extrem kräftigen Stimme und dem gleichfalls kraftvollen Spiel von Young auf der Akustikgitarre auf, aber es werden zusätzlich breitflächige, fast bombastische Synthesizerklangflächen verwendet. Wer jetzt laut "New Age Musik" schreit hat zwar irgendwie recht (würde ich sonst ja auch tun!) - aber irgendwie stört es hier nicht. Sogar die gelegentlichen Drumcomputer- und E-Gitarreneinsätze eines gewissen Rick West können nichts kaputt machen. Tolle Platte!!! Entdeckt, wie wie viele andere, bei Alan Bangs im "Night Flight" auf BFBS.
Mehr ...