Das legendäre Jazzlabel Blue Note lieferte (und liefert immer noch!) nicht nur ausgezeichnete Musik, sondern auch eine wunderbare Coverästhetik! 1939 von dem aus Deutschland emigrierten Alfred Loew, der sich in Alfred Lion umbenannte, gegründet war Blue Note bereits seit dem Beginn des Zeitalters der Langspielplatte Ende der 40er/Anfang der 50er dabei, auch wenn zum Beispiel die ersten Monk-LPs noch 1o-Zoll groß waren. Miles Davis, John Coltrane, Duke Ellington, Sonny Rollins - alle großen des Jazz waren zumindest für ein Album mal dabei. Gerade in den 60ern bis zu Beginn der 70er entstanden viele tolle Platten, die dank der sich damals rasant entwickelnden Tontechnik und vor allem Dank Tonmeister Rudy van Gelder - auch heute noch toll klingen.
Thelonius Monk: "Genius Of Modern Music, Vol. 1" (BLP 5002, 15. Okt. 1947 - 2. Juli 1948)
Ich komme bei diesen frühen Aufnahmen von Monk, Miles & Co. immer ein wenig durcheinander, aber die Aufnahmen stammen zwar von 1947 und '48 und wurden zuerst als 78er Schellacks veröffentlicht, als 1o"-Album wohl aber erst später (die erste 10"-Vinyl von Blue Note erschien 1951). Ein Pflichtkauf, weil Monks erste eigene Version von "'Round Midnight" mit dabei ist.
Thelonius Monk: "Genius Of Modern Music, Vol. 2" (BLP 5009, 15. Okt. 1947 - 23. Juli 1951)
Der zweite Teil des Monk-Klassikers, dieses Mal mit Aufnahmen von 1947 bis '51, auf meiner CD sogar mit Aufnahmen von 1952.
Miles Davis: "Vol. 3" (BLP 5040, 06. März 1954)
Miles in Quartettbesetzung mit Horace Silver, Percy Heath und Art Blakey. Diese gut klingenden Aufnahmen gelten als eine der frühesten im Hardbob-Stil.
Sonny Rollins: "Vol. 2" (BLP 1558, 14. April 1957)
Na ? Kommt Euch das Cover bekannt vor? Genau, Joe Jackson hat es mal für sein jazzangehauchtes Album "Body And Soul" nachgestellt. Auch der Plattentitel bezieht sich auf Jazz, denn der gleichnamige Song wurde damals in der Version von John Coltrane bekannt.
Mehr ...
Johnny Griffin: "Blowin' Session" (BLP 1559, 06. April 1957)
Mehr ...
John Coltrane: "Blue Train" (BLP 1577, 15. Sept. 1957)
Ein eher unbekanntes Album des größten Saxofonisten aller Zeiten, noch vor denrn bei Atlantic und Impulse. Wohl sein einziges für Blue Note. Mit der bewährten Rhythmusgruppe von Miles Davis (Schlagzeuger Philly Joe Jones und Bassist Paul Chambers), Kenny Drew am Piano, Posaunist Curtis Fuller und Trompeter Lee Morgan war das sogar ein Sextett mit drei Bläsern.
Sonny Clark: "Cool Struttin'" (BLP 1588, 05. Jan. 1958)
Ein echter Hardbob-Klassiker in jedem Fall - vielleicht sogar das "Blue-Note-Album-Schlechthin"? Ich kenne kaum etwas mit mehr Swing als diese Aufnahmen des oft unterschätzten Pianisten, hier zusammen mit dem Trompeter Art Farmer, dem Altsaxofonisten Jackie McLean und der ein Jahr später durch das Miles Davis-Album "Kind Of Blue" weltbekannt werdenden Rhythmusgruppe mit Schlagzeuger Philly Joe Jones und Bassist Paul Chambers.


(08.08.2006)
Mehr ...
Cannonbal Adderley: "Somethin' Else" (BLP 1595, 09. März 1958)
Art Blakey And The Jazz Messengers: "Moanin'" (BLP 4003, Okt. 1956 * 1959)
Aufgenommen 1956, erschienen aber wohl erst 1959. Enthält mit dem Titelsong aus der Feder von Pianist Bobby Timmons und "Along Came Betty" von Saxofonist Benny Golson gleich zwei Originalaufnahmen zukünftiger Jazzklassiker. An der Trompete überzeugt Lee Morgan.


(10.03.2009)
Mehr ...
Hank Mobley: "Soul Station" (BLP 4031, 07. Feb. 1960)
Hank Mobley hat als Tenorsaxofonist zwar nie den Bekanntheitsgrad von John Coltrane oder Sonny Rollins erreicht und war sicherlich nicht so "innovativ" wie Coltrane, hat aber nichtsdestotrotz ein paar ausgezeichnete Alben aufgenommen. Dieses "typische Blue-Note-Album" gilt zu recht als eines seiner besten. Mit dem unvergleichlichen Art Blakey am Schlagzeug, sowie Wynton Kelly am Piano und Paul Chambers am Kontrabass, beide Mitglieder vom Miles Davis Quintet und auch auf dessen legendärem Album "Kind Of Blue" dabei.
Tina Brooks: "True Blue" (BLP 4041, 25. Juni 1960)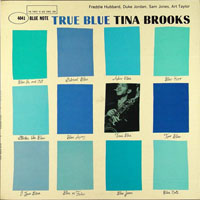 Tina Brooks ist Blue Note-Tenorsaxofonist nie so bekannt geworden wie Sonny Rollins, John Coltrane, Joe Henderson, Wayne Shorter oder Hank Mobley. Deshalb ist wohl auch vielen diese schöne Hardbop-Session mit Freddie Hubbard (tp), Duke Jordan (p), Sam Jones (b) und Art Taylor (dr) entgangen. Sommermusik.
Freddie Hubbard: "Ready For Freddie" (BLP 4085, 12. Aug. 1961)
Kein besonders kreativer LP-Titel, aber eines der besten Alben eines der besten Jazztrompeter. "High End Blue Note" sozusagen, Dank Freddie Hubbard, Tonmeister Rudy van Gelder (wer sonst?) und der tollen Band: Schlagzeuger Elvin Jones, Pianist McCoy Tyner und Bassist Art Davis vom Coltrane Quartett (bei Art Davis bin ich mir nicht sicher, ob er dort fest dabei war oder nur "Ergänzungsspieler" ), dazu der damals noch "junge" Tenorsaxofonist Wayne Shorter und Euphoniumspieler Bernard McKinney (der nannte sich später Kiane Zawadi, warum auch immer), aufgenommen am 12. August 1961. Das im Jazz eher selten eingesetzte Euphonium liegt von der Lage her zwischen der Trompete und der Tuba und klingt für ungeübte Ohren (also z. B. meine) wie eine Posaune.


(28.05.2008)
Mehr ...
Ike Quebec: "Blue And Sentimental" (BLP 4098, 23. Dez. 1961)
Ike Quebec war ein enger Freund von Produzent und Labelchef Alfred Lion, arbeitete hauptsächlich als Talentscout für Blue Note, nahm aber auch gelegentlich noch eigene Alben auf.
Das 1963 erschienene Album "Blue And Lonesome" ist noch viel besser, als das wenige Tage vorher aufgenommene Album "It Might As Well Be Spring". Begleiter aus der 1. Jazz-Liga sind dabei: Gitarrist Grant Green, Bassist Paul Chambers und Schlagwerker Philly Joe Jones. Aber vor allem überzeugt der Ton von Ike. Perfektes Nachtclub-Saxofon. Wunderschön. Balsam für die Ohren.
Ike Quebec: "It Might A Well Be Spring" (BLP 4105, 09. Dez. 1961)
Aufgenommen 1961, veröffentlicht aber erst 1964, was aber nicht ungewöhnlich für Blue-Note und viele andere Jazzlabels war: Oft wurde in einer Session Material für mehrere Alben eingespielt, manchmal verschwanden ganze Sessions und somit geplante Alben erst einmal im Archiv und wurden erst nach dem Tod (Quebec verstarb 1963) oder nach Labelwechsel der Künstler veröffentlicht, ohne dass man dabei aber von Ausschußmaterial sprechen könnte.
Milt Hinton (bass), Al Harewood (dr) und Freddie Roach (org) sind hier die etwas unbekannteren Mitmusiker. Das Album hat mir optisch schon immer gut gefallen. Und kürzlich habe ich in der Grabbelkiste von 2001 zugegriffen ...
(März 2009)
Jackie McLean: "Let Freedom Ring" (BLP 4106, 19. März 1962)
...
(29.05.2015)
Mehr ...
Freddie Hubbard: "Hub-Tones" (BLP 4115, 10. Okt. 1962)
Viele gute Platten hat der gute Freddie damals für Blue Note aufgenommen. "Hub-Tones" ist besonders gelungen, was neben Freddie auch an den anderen beiden Solisten - Pianist Herbie Hancock und Flötist/Altsaxofonist James Spaulding - und der Rhythmusgruppe - Reggie Workman und Clifford Jarvis - liegt.
Mehr ...
Sheila Jordan: "Portrait Of Sheila" (BN 9002, 12. Okt. 1962)
Das Debüt der Sängerin (Jahrgang 1928) war etwas besonderes: sie war weiß, kam aus einfachen Verhältnissen, hing mit schwarzen Jazzmusikern herum (mit Charlie Parkers Pianist Duke Jordan war sie sogar von 1952 bis 1962 verheiratet) und sang lieber instrumentalen Bebop als die üblichen Balladen. Bereits damals bevorzugte sie kleine Besetzungen statt großer Orchester und ist bis heute, weit in ihren 80ern, immer noch aktiv, meist im Duo mit Kontrabassisten. Auf ihrer einzigen (?) Blue Note-Platte ist sie mit Barry Galbraith (Gitarre), Steve Swallow (damls noch am Kontrabass statt an der Bassgitarre) und Denzil Best (Schlagzeug) zu hören. Tolle Platte.


(02.01.2013)
Kenny Burrell: "Midnight Blue" (BLP 4123, 7. Jan. 1963)
Ein grooviges Album des Gitarristen und in den 90ern eine der meist gesampelten Vorlagen für den so genannten "Acid-Jazz". Aber keine Sorge: es handelt sich um ein wirklich gutes Album, nur vielleicht für Jazzpuristen etwas zu "kommerziell" - aber was soll's?
An den Congas ist der legendäre Ray Barretto dabei und das Saxofon bläst Stanley Turrentine - auch eine Legende!
Mehr ...
Donald Byrd: "A New Perspective" (BLP 4124, 12. Nov. 1963)
Der Klassiker von Donald Byrd mit einem der schönsten Blue Note-Cover, wo Byrd mit einem der schönsten Autos dieser Zeit (aller Zeiten?), dem Jaguar E-Type, posiert. Erwähnenswert ist auch der eingesetzte Gospelchor.
Mehr ...
Jackie McLean: "One Step Beyond" (BLP 4137, 30. April 1963)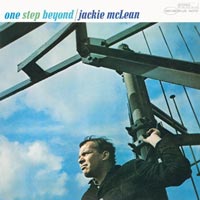 Joe Henderson: "Page One" (BLP 4140, 03. Juni 1963)
Das Blue Note-Debüt des Tenorsaxofonisten enthält mit "Blue Bossa" vom an der Aufnahmesession beteiligten Trompeter Kenny Dorham die Originalversion eines Jazzklassikers, den wohl die meisten kennen - wenn auch nicht dem Namen nach. Für mich bleibt aber unerklärlich, warum der hier ausgezeichnet aufspielende Pianist McCoy Tyner als einziger auf dem Froncover namentlich nicht genannt wird, sondern nur unter "etc." firmiert.
Mehr ...
Grachan Moncur III: "Evolution" (BLP 4153, 21. Nov. 1963)
Als eines der wenigen Alben des Posaunisten und Komponisten Grachan Moncur III unter eigenem Namen ist "Evolution" eine für Blue Note-Verhältnisse relativ "sperrige" Angelegenheit, auch wenn der Begriff "Free Jazz" unzutreffend wäre - eher passt "Avantgarde". Komplexe Kompositionen, eingespielt von einem Spitzenensemble (Lee Morgan an der Trompete, Bobby Hutcherson am Vibraphon, Jackie McLean am Altsaxophon, Bob Cranshaw am Bass und der damals 17jährige Tony Williams am Schlagzeug) zeichnen dieses Highlight von Blue Note aus.


(27.05. 2009)
Grant Green: "Idle Moments" (BLP 4154, 15. Nov. 1963)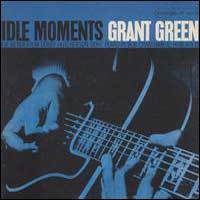 "Idle Moments", so was wie "Momente des Müßiggangs", deutet natürlich auf eine sehr lässige Spielart des Jazz hin, die hier der Gitarrist Grant Green mit seinen exzellenten Mitspielern (u. a. Joe Henderson am Tenorsax und Bobby Hutcherson am Vibraphon) pflegt. Vor allem aber swingt die Platte ungemein. Mit böser Zunge könnte man das als "Barjazz" bezeichnen, aber warum ist das ein Schimpfwort? Diese Band spielt hier gleichzeitig völlig lässig und total virtuos - und ich hätte sie dabei extrem gerne in einem Jazzclub erlebt! Ansonsten: vielleicht DIE PERFEKTE BLUE NOTE PLATTE?


(Feb. 2006)
Mehr ...
Lee Morgan: "The Sidewinder" (BLP 4157, 21. Dez. 1963)
"Sidewinder" ist nicht nur das Comeback des Trompeters bei seinem alten Label als Leader, sondern - so weit ich weiß - sogar einer der größten Hits des Blues Note Labels überhaupt aus den 60ern! Zusammen mit Joe Henderson (tsax), Barry Harris (p), Bob Cranshaw (b) und Billy Higgins (dr) liefert in Lee Morgan in 5 Eigenkompositionen zwischen 6 und 10 1/2 Minuten, vor allem im blusigen Titelsong, die Vorlage für viele weitere Blue Note Alben, die da noch kommen sollten ...
Mehr ...
Jackie McLean: "Destination Out" (BLP 4165, 20. Sept. 1963)
Weil ich letztendlich kein Kenner der Musik von Altsaxophonist Jackie McLean bin, greife ich nur gelegentlich zu, wenn ich eine seiner Reissue-CDs in der Grabbelkiste finde. Zwei, dreimal habe ich dabei interessante, aber mich nicht wirklich begeisternde Aufnahmen entdeckt, aber "Destination Out" ist ein echter Klassiker: lediglich vier Songs, alles Originalkompositionen, drei von Posaunist Gracan Moncur III, eine von McLean selber, jeweils um die 10 Minuten lang, von den beiden Bläsern zusammen mit der Rhythmusgruppe Roy Haynes (dr) und Larry Ridley (b) und dem Vibraphonspieler Bobby Hutcherson als "Pianoersatz" eingespielt, bringen genau die richtige Mischung aus Form und Freiheit, altem und neuem Jazz. Und wie immer natürlich mit einem fantastischen Sound Dank Rudy van Gelder.


(24.05.2009)
Mehr ...
Eric Dolphy: "Out To Lunch" (BLP 4163, 25. Febr. 1964)
Eric Dolphy passte als "Freigeist" mit seiner Musik vielleicht nicht ganz in das Blue Note-Konzept. Vielleicht gerade deshalb ein tolles Album? Oder wegen der tollen Band: Freddie Hubbard (tp), Bobby Hutcherson (vib), Richard Davis (db) und Tony Williams (dr).


(28.03.2010)
Mehr ...
Andrew Hill: "Point Of Departure" (BLP 4167, 21. März 1964)
Mehr ...
Lee Morgan: "In Search Of The New Land" (BLP 4169, 15. Feb. 1964)
Und hier ein weiteres Blue-Note-Highlight aus dieser Zeit. Lee Morgan galt damals als eines der größten Talente an der Trompete, bevor er leider in den Drogensumpf geriet. Auf dieser Platte gibt es Hard Bob vom Feinsten: 5 Eigenkompositionen von Morgan, unter denen das 15minütige Titelstück direkt zu Beginn besonders herausragt. Die Band ist so ziemlich das Beste, was man bei Blue Note damals aufgefahren hat: Wayne Shorter am Tenorsaxofon, Gitarrist Grant Green, Pianist Herbie Hancock, Bassist Reggie Worman und Trommler Billy Higgins. Muss ich außerdem erwähnen, dass Rudy van Gelder wie immer einen phantastischen Sound hinbekommen hat?


(Oktober 2006)
Mehr ...
Herbie Hancock: "Empyrean Isles" (BLP 4175, 17. Juni 1964)
Mehr ...
Horace Silver Quintet: "Song For My Father" (BLP 4185, 26. Okt. 1964)
Mehr ...
Joe Henderson: "Inner Urge" (BLP 4189, 30. Nov. 1964)
Ein weiteres vorzügliches Album eines zum Teil unterschätzten Meisters des Tenorsaxofons. Garanten für diese hohe Qualität sind natürlich auch seine Mitstreiter, die alle grosse Erfahrungen als Begleiter von Spitzenkönnern am Tenorsax haben: McCoy Tyner und Elvin Jones aus der Band von John Coltrane, sowie Bob Cranshaw, der langjährige Begleiter von Sonny Rollins.


(09.06. 2010)
Mehr ...
Wayne Shorter: "Speak No Evil" (BLP 4194, 24. Dez. 1964)
"This is the perfect Wayne Shorter album"

sagt der Kritiker vom All Music Guide. Und der Mann hat natürlich Recht. Zusammen mit Herbie Hancock am Piano, Freddie Hubbard an der Trompete, Elvin Jones am Schlagzeug und Ron Carter am Kontrabass entstand am Heiligabend 1964 eine der schönsten und zeitlosesten Jazzplatten, die ich kenne.
Mehr ...
Herbie Hancock: "Maiden Voyage" (BLP 4195, 17. Mai 1965)
In klassischer Quintettbesetzung am 17.05.1965 eingespielt, hält Hancock hier den Standard, den er durch seine Mitwirkung im Miles Davis Quintet mit gesetzt hat. Von seinem Arbeitgeber kamen Ron Carter (db), Tony Williams (dr) und George Coleman (sax), während Freddie Hubbard (tp) den Chef würdig vertrat.
Mehr ...
Bobby Hutcherson: "Dialogue" (BLP 4198, 03. April 1965)
Das Debüt des ausgezeichneten Vibraphonisten als Solokünstler mit einem sehr spannenden Ensemble eingespielt: Freddie Hubbard an der Trompete, Richard Davis am Bass, Joe Chambers am Schlagzeug, Sam Rivers am Saxophon und Andrew Hill am Piano.
Pete La Roca: "Bazra" (BLP 4205, 19. Mai 1965)
Eine der wenigen Sessions des Schlagzeugers unter eigenem Namen. Damals noch am Kontrabass statt der Bassgitarre Steve Swallow, der spätere Mitstreiter von Gary Burton und Carla Bley, am Klavier Steve Kuhn. Alle drei spielten damals zusammen in der Band von Trompeter Art Farmer. Am Saxofon hier zu hören der wunderbare Joe Henderson. Hard Bop der Spitzenklasse.


(06.04.2011)
Mehr ...
Horace Silver Quintet plus J.J. Johnson: "The Cap Verdean Blues" (BLP 4220, 22. Okt. 1965)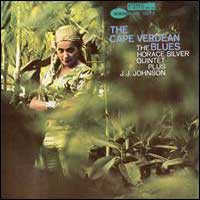 ... und noch mehr vorzüglicher Jazz (und Dank Rudy van Gelder) in perfektem Klang von einem wunderbaren Label! Der Pianist Horace Silver war damals sehr populär und hatte einen etwas "eingängigeren Stil" als manche seiner Kollegen: Mainstream-Jazz auf allerhöchstem Niveau! Mit dabei drei tolle Bläser: Tenorsaxofonist Joe Henderson war schon auf dem ebenfalls gelungenen Vorgänger "Song For My Father" zu hören. Trompeter Woody Shaw war als "Youngster" neu in der Band. Posaunist Jay Jay Johnson war ein alter Weggefährte von Silver aus den 50ern und ist als Gastsolist zu hören. Und wie immer bei Blue Note: ein sehr schönes Cover!


(14.04.2006)
Mehr ...
Larry Young: "Unity" (BLP 4221, 10. Nov. 1965)
"Unity" ist vielleicht das beste Album eines der ganz großen Orgelspieler des Jazz! Unterstützt von Elvin Jones am Schlagzeug und den Bläsern Joe Henderson (Ternorsax) und Woody Shaw (Trompete) wird hier eine modernere Orgelmusik als etwa bei Jimmy Smith gepflegt, den ich aber auch sehr schätze.


(02.06.2009)
Mehr ...
Bobby Hutcherson: "Happenings" (BLP 4231, 06. Febr. 1966)
Sam Rivers: "Dimensions & Extensions" (BLP 4261, 17. März 1967 * 1986)
Erstmals 1976 als Teil des Doppelalbums "Involution" (BN LA453-H2) veröffentlicht, erschien das Album erstmalig 1986 mit dem ursprünglich geplantem Cover und der vorgesehenen Bestellnummer. Neben Rivers sind Donald Byrd (Trompete), Julian Priester (Posaune), James Spaulding (Altsaxophon, Flöte), Cecil McBee (Bass) und Steve Ellington (Schlagzeug) dabei.
Booker Ervin: "The In Between" (BLP 4283, 12. Jan. 1968)
Booker Ervin war mir bisher nur dem Namen nach bekannt, u.a. von ein paar Charles Mingus-Alben. Auf "In Between" ist er im Studio von Rudy van Gelder in klassischer Quintett-Besetzung zu hören, wobei auch die Mitstreiter nicht zu den bekanntesten Blue-Note-Protagonisten gehören: Trompeter Richard Williams (auch bei Mingus zu hören), Pianist Bobby Few, Bassist Cevera Jeffries und Trommler Lennie McBrowne.
Beim ersten Reinhören haben mich die beiden ersten Titel direkt zum Kauf überredet: zuerst der Titeltrack mit seiner Mördergroove, bei der man ein Mitwippen unmöglich unterdrücken kann. Danach mit "The Muse" eine schöne Ballade mit Querflöte. Aber auch der Rest ist überzeugend: klanglich, spielerisch ... in jeder Hinsicht!


(08.08.2010)
Mehr ...
Bobby Hutcherson: "Total Eclipse " (BLP 4291, 12. Juli 1968)
Ob Bobby Hutcherson soviel Spaß hatte, weil man damals als Raucher noch eine gewisse Coolness hatte, ist mir nicht bekannt. Die Besetzung der Platte verspricht höchste Qualität: Chic Corea am Piano, ansonsten gerade frisch im Miles Davis Quintet angekommen, Harold Land an Saxofon und Flöte, der hier seine langjährige Zusammenarbeit mit Hutcherson beginnt, Joe Chambers am Schlagzeug und Reggie Johnson am Bass.
(02.06.2015)
Mehr ...
Donald Byrd: "Slow Drag" (BLP 4292, 12. Mai 1967)
Trompeter Donald Byrd bei einer seiner letzten akustischen Sessions vor seiner erfolgreichen Funk-Phase, zusammen mit Sonny Red (Altsaxofonist), Cedar Walton (Piano), Walter Booker (Bass) und Trommler Billy Higgins.
(02.03.2008)
Der erste Anreiz, mich mit "Slow Drag" zu beschäftigen, abgesehen davon, dass Donald Byrd und Blue Note natürlich immer für Qualität bürgen, war zugegebenermaßen ein rein optischer - aber es ist auch ein wirklich gutes Album. Wahrscheinlich kein Meilenstein der Jazzgeschichte, aber einfach gut zu hören.
(22.06.2010)
Mehr ...
Eddie Gale: "Eddie Gale's Ghetto Music" (BLP 4294, 20. Sept. 1968)
Auf das Debütalbum des mir bislang völlig unbekannten Eddie Gale (spielte bei Cecil Taylor und mit Sun Ra) bin ich zufällig im Internet gestoßen, wo eine Zusammenarbeit des Trompeters mit der Instrumentalband Mushroom aus San Francisco, geleitet von Trommler Pat Thomas, erwähnt wurde. Dort gab es auch einen Hinweis auf dieses seltene Kultalbum, das eine Besonderheit im Blue Note-Katalog darstellen soll. Kürzlich bekam ich eine Kopie des CD-Reissues auf Water-Records, betreut von, oh Zufall, Pat Thomas.
Die Besetzung besteht aus zwei Bläsern (Eddie und Saxofonist Russell Lyle), dazu zwei Bässe, zwei Schlagzeuger und ein 11köpfiger Gospelchor. Die erste Nummer "The Rain" beginnt - verwirrend auf einem Blue Note-Album - mit einer einzelnen sanften Frauenstimme und Folkgitarre im Stile von Pentangle oder besser gesagt: Joan Baez, bevor zur zweiten Strophe Band und Chor dazukommen und die Nummer doch noch zu einer ekstatischen Jazzimprovisation wird. Ein wirklich tolles Album! Und wirklich was besonderes im Blue Note-Katalog!


(28.05.2009)
Mehr ...
Bobby Hutcherson: "Now!" (BLP 4333, 1969)
Lost and found!


(10.05.2013)
Mehr ...
Donald Byrd: "Electric Byrd" (BLP 4349, 15. Mai 1970)
Dieses Album wäre ohne Bitches Brew wohl kaum entstanden: am 15.Mai, also knapp einen Monat nach dem Erscheinen von Miles Davis' Meisterwerk war der Blue-Note-Startrompeter selber im Studio, um seine Version/Vision von "Fusion" zu erschaffen. Mit dabei u. a. die ehemaligen bzw. zukünftigen Miles-Davis-Musiker Ron Carter und Airto Moreira. Neben Donald Byrds Trompete sind gleich 4 sehr gute Saxofonisten dabei: Jerry Dodgion, Frank Foster, Lew Tabackin und Pepper Adams, dazu an der Posaune Bill Campbell. Trotzdem gibt es keinen klassischen "Bigband"-Sound. Eine tragende Rolle nimmt das E-Piano von Duke Pearson ein. Um es noch mal klar zu sagen: hier wird nicht Miles Davis kopiert, sondern eine entspannte Variante der damaligen "Zeitgeist"-Musik gebracht. Wer auf lange Klangteppiche á la Bitches Brew steht, aber dort eine gewisse Leichtigkeit vermisst, der ist hier gut aufgehoben. Für mich eine sehr schöne Hintergrundmusik (was nicht negativ gemeint ist!)
Mehr ...
Jimmy McGriff: "Electric Funk" (BLP 4350, Sept. 1969)
Bobby Hutcherson: "San Francisco" (BLP 4362, 15. Juli 1970)
Alleine schon am Cover und Bobbys Kopfbedeckung kann man erkennen, dass diese Platte nicht aus der Hochphase des Labels Mitte der 60er stammt! Und auch die Musik steckt irgendwo zwischen klassischem Hardbop der 60er und dem, was Miles Davis zur selben Zeit mit Bitches Brew natürlich viel radikaler betreibt: der Elektrifizierung des Jazz. Auf "San Francisco" bezogen heißt das aber nur, dass Joe Sample (der Crusaders-Chef ist hier nur in einer Nebenrolle dabei!) neben dem Flügel auch sehr schön das Rhodes-E-Piano einsetzt und Bassist John Williams neben dem Kontrabass auch die Bassgitarre verwendet, bzw. wie man damals immer sagte und es hier auch auf dem Cover steht: er spielt Fender Bass. Wichtigster Solist neben Hutcherson, der außer dem metallenen Vibraphon auch das verwandte hölzerne Marimbaphon einsetzt, ist der auf dem Cover mit abgebildete Bläser Harold Land an Tenorsaxofon, Flöte und Oboe. Schöne Platte, die zwar nicht so sehr swingt, aber dafür sehr gut groovt!
Mehr ...
Die 70er bei United Artists an der Westküste ...
Donald Byrd: "Black Byrd" (BN LA 047, 04. April 1972)
Mehr ...
Eddie Henderson: "Sunburst" (BN LA 464, März/April 1975)
Chico Hamilton: "Peregrinations" (BN LA 520, 10. Juli 1975)
Mein erstes Blue Note Album vom ehemaligen Trommler des berühmten Gerry Mulligan/Chet Baker Quartetts aus den 50ern mit einem "zeitgenössischen" Mix aus Jazz, Funk, Rock und Disco. Irgendwann in den späten 70ern/frühen 80ern hatte ich das Album für wenig Geld irgendwo aus der Grabbeliste gezogen und fand es zuerst, wie ich zugeben muß, ziemlich scheiße, vor allem wegen der verwendeten Streicher. Wenn ich mir diese Musik jetzt aber aus der Distanz so anhöre, dann hat das aber durchaus was! Zwar ist sie für mich nicht so gut wie die vom Labelkollegen Donald Byrd, aber immerhin mit Arnie Lawrence und dem damaligen Shootingstar Arthur Blythe an den Saxofonen, sowie Joe Beck und Barry Finnerty an den Gitarren. Bei einigen Nummern mit dominaten Bassfiguren von Steve Turre habe ich sogar den Eindruck, daß sich hier Kurti Hauenstein von Supermax doch sehr "inspirieren" ließ! Und "Andy's Walk" ist eine wahre

Hohner-D6-

Orgie, die sich durchaus mit "Superstition" von Stevie Wonder messen kann ...


(01.09.2009)
Mehr ...
Hank Mobley: "A Slice Of The Top" (BN LT-995, 18. März 1966 * 1979)
(18.10.2016)
Mehr ...
Larry Young: "Mother Ship" (BN LT-1038, 2. Feb. 1969 * 1980)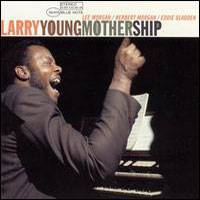 Seine letzte Session für Blue Note, die aber erst mit 11 Jahren Verspätung, nach seinem frühen Tod (30.03.78), erschien. Die Besetzung ist die gleiche wie zuvor bei seinem Meisterwerk "Unity" von 1965: Orgel, Schlagzeug (Eddie Gladden), Trompete (Lee Morgan) und Tenorsaxofon (Herbert Morgan), aber die Musik hat sich natürlich weiterentwickelt: fünf Eigenkompositionen zwischen knapp 7 und 13 Minuten Länge, die

noch

Hardbop und

schon

ein klein wenig Jazzrock sind. Seine nächste Station wenige Monate später war dann das für den Jazzrock bahnbrechende Trio Lifetime mit Tony Williams und John McLaughlin. Der Rest ist Geschichte.


(01.08.2010)
Mehr ...
Die Neuzeit bei Mutter EMI ...
Cassandra Wilson: "Blue Light ´Til Dawn" (1993)
Auf diesem Blue Note Album verband sie ihre für schwarze Jazzer ungewohnte (?) Vorliebe zu weißen Singer/Songwritern und der Bluesmusik ihre Heimat (Mississippi-Delta) mit ihrer Jazz-Ästhetik - und das vor allem im akustischen Gewand. Coverversionen von: Robert Johnson ("Come On In My Kitchen" und "Hellhound On My Trail"), Ann Peebles ("I Can't Stand The Rain"), Van Morrison ("Tupelo Honey") und Joni Mitchell ("Black Crow").
Cassandra Wilson: "New Moon Daughter" (Dez. 1995)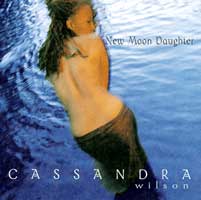 Auch auf diesem Album pendelt Cassandra Wilson zwischen Jazz und Blues und überrascht neben vorzüglichem eigenen Material mit der Wahl der Coverversionen: Son House, Billie Holiday ("Strange Fruit"), U2, Neil Young ("Harvest Moon"), The Monkees ("Last Train To Clarksville"), Hank Williams und Hoagy Carmichael. Weitestgehend akustisch eingespielt mit Jazz-Könnern und klanglich ein Ohrenschmaus.
Charlie Hunter Quartet: "Natty Dread" (1997)
Mehr ...
The Jazz Mandolin Project: "Xenoblast" (Aug. 1999)
Mandoline, Kontrabass und Schlagzeug - eine ausgezeichnete Kombination, um zu jazzen. Jamie Masefield ist ein Meister der 8 Saiten. Gerade in Jamband-Kreisen ist die Kapelle sehr beliebt und wurde mit diesem zweiten Album sogar für das legendäre Blue Note-Label verpflichtet. Als Gast dabei: Jamrock-Halbgott Trey Anastasio von Phish an der Gitarre.


(07.10.2009)
Mehr ...
St. Germain: "Tourist" (Mai 2000)
Ein Projekt des französischen Produzenten Ludovic Navarre, der hier erstaunliche Ergebnisse bei der Verbindung von Jazz und Electronik erzielt: Bass, Schlagzeug und ein paar schicke Samples (u.a. Marlena Shaw und John Lee Hooker) kommen aus dem Computer, dazu als "Sahnehäubchen" echte Trompete, Saxofon, Gitarre, Piano und Perkussion: alles passt! Und zurecht geadelt durch die Veröffentlichung bei dem legendären Jazzlabel!


(04.06.2011)
Mehr ...
Norah Jones: "Come Away With Me" (Feb. 2002)
Spät entdeckt, aber nicht zu spät! Ein wunderbares Album, das nicht schon alleine deshalb schlecht sein muss, weil so viele Leute es offensichtlich auch sehr mögen. Und der Nachfolger von 2004 "Feels Like Home" ist sogar noch besser, nur eben nicht mehr so überraschend.
(Feb. 2004)
Mehr ...
Cassandra Wilson: "Belly Of The Sun" (April 2002)
Van Morrison: "What's Wrong With This Picture" (Okt. 2003)
Mit seinem tatsächlich 32. Soloalbum ist Van The Man nun bei Blue Note gelandet. Aber hierbei handelt es sich nicht um ein straightes Jazz-Album, sondern um die Verdichtung seiner mannigfaltigen Einflüsse und um diesen unnachahmlichen Flow seiner Kompositionen, der sich auf "What´s Wrong With This Picture" gut geerdet zeigt. Mit einer brillanten Version von "Saint James Infirmary", aber leider auch sattsam bekannten Songmustern (jeder weiß wie der Song "Somerset" klingt). Sicher ist das hier aller Ehren wert, einige werden hier ein "großes Alterwerk" hören und ich will hier auch nichts Schlechtes über meinen alten Helden sagen… Also lasse ich es und suche mal nach "Tupelo Honey". (Glitterhouse)
Das mag ja stimmen, lieber Glitterhäusler. Und sicherlich ist das Album nicht auf die Ebene von Tupelo Honey zu heben. Aber im Gegensatz zu einem anderen meiner alten Helden, Mr. Neil Young, liefert uns Mr. Morrison auch im fortgeschrittenen Alter noch höchste Qualität ab. Außerdem muss ich sagen: das neue Album von VAN THE MAN ist, wie schon allen anderen Alben zuvor, Balsam für Ohren & Seele!
(26.10.2003)
Mehr ...
Al Green: "I Can't Stop" (Nov. 2003)
Völlig überraschend nach so vielen Jahren ein Album des besten Soulsängers überhaupt (natürlich neben Otis Redding). Als wäre seit "Let's Stay Together" keine 30 Jahre vergangen. Wenn es zeitlos gute Popmusik gibt: dann so was! Und der Glitterhäusler soll sich die Platte einfach noch mal anhören.


(11.12.2003)
Mehr ...
Norah Jones: "Feels Like Home" (Feb. 2004)
Auch diese Platte ist natürlich kein Geheimtipp. Schon das Debüt "Come Away With Me" hatte mir eigentlich recht gut gefallen, obwohl es nie in der Rubrik "Frisch Ausgepackt" aufgetaucht ist. Immerhin hatte es bis zum letzten Herbst gedauert, bis ich die Platte endlich auch zu hause hören konnte, da ich die Kopplung mit dem Konzertvideo "Live In New Orleans" als Weihnachtsgeschenk für mein Schwesterlein gekauft hatte. Drei Gründe sprachen diesmal aber für eine sofortige Anschaffung:
- das Video stellte sich als absolut gut heraus, vor allem musikalisch, aber es ist auch wegen Miss Jones ist in ihrer "schüchternen" Art visuell ziemlich beeindruckend.
- bei den Aufnahmen zu "Feels Like Home" waren Levon Helm und Garth Hudson, zwei meiner alten Helden von The Band, dabei (auf "Live In New Orleans" wird sogar "Bessie Smith" von Basement Tapes gecovert!)
- mit der Coverversion "Be Here To Love Me" wird posthum Townes Van Zandt, auch einer meiner Helden, geehrt.
Jetzt wo die Platte bei mir läuft, bin ich total begeistert. Es ist zwar kein Hit vom "I Don't Know Why"-Kaliber dabei, was vielleicht gar nicht so schlecht ist, denn so wird das bei mir sicherlich eine Platte mit Langzeitwirkung. Und viel Wurlitzer-Piano. Falls das jemanden interessiert.
(28.02.2004)
Mehr ...
Thelonius Monk Quartet with John Coltrane: "At Carnegie Hall" (29. Nov. 1957/Sept. 2005)
Wahnsinn! Ein neues Album von Monk und Trane, zwei der wichtigsten Jazzmusiker aller Zeiten und auch zwei meiner absoluten Favoriten! Die Aufnahmen stammen von einem Wohltätigkeitskonzert in der New Yorker Carnegie Hall vom 29.11.1957 und wurden erst kürzlich in einem verstaubten Archiv entdeckt. Geniale Musik - und ein fantastischer Sound!


(05.11.2005)
Mehr ...
Cassandra Wilson: "Thunderbird" (März 2006)
Eigentlich hatte ich mich auf das Album sehr gefreut, als ganz kurzfristig die Vorankündigung per Email kam, u. a. weil als Produzent T-Bone Burnett erwähnt wird. Aber direkt bei der ersten Nummer gibt es Computerbeats, die mir erstmal den Appetit verdorben haben. Außerdem fehlt die ultimative Coverversion, für die ich Mrs. Wilson so sehr liebe (ich denke da z.B. wehmütig an das grandiose, gegen den Strich gebürstete "Harvest Moon" auf "New Moon Daughter" von 1995 und "Tupelo Honey" auf "Blue Light 'Til Dawn" von 1993). Aber ich werde mich in den nächsten Tagen dazu noch mal äußern ...
(09.04.2006)
Tja ... irgendwie werde ich mit dem Album wohl nicht mehr warm. Zuerst hatte ich keine Lust, es noch mal aufzulegen. Dann hab ich es doch noch mal gehört und es machte immer noch nicht "klick". Schließlich ist die CD ganz aus meiner Aufmerksamkeit verschwunden...
(Weihnachten 2006)
"Keren Ann" (April/Juni 2007)
Dies ist wohl schon das dritte Album der Dame, die aus Israel stammt, in Paris aufgewachsen ist und inzwischen in New York lebt und arbeitet. Frühere Alben sollen in Französisch sein, aber auf diesem titellosen Album wurde erstmals ausschließlich Englisch gesungen. Für ältere Zeitgenossen: Es klingt stark nach Velvet Underground. Etwas Jüngere unter uns fühlen sich vielleicht ein wenig an die Band Mazzy Star erinnert, die ja aber auch im Grunde nach VU klangen. So etwas mag ich natürlich sehr!


(30.09.2007)
Mehr ...
Al Green: "Lay It Down" (Mai 2008)
Blöde Brille, tolle Musik! Al Green hat sich dieses mal nicht von seiner alten Memphis-Gäng um Wilie Mitchell begleiten lassen, sondern von einer Studioband um den Schlagzeuger und Produzenten ?uestlove, der wohl von der berühmten (?) Hipp-Hopp(?)-Band The Roots kommt. Man verzeihe mir meine Ignoranz und die vielen Fragezeichen (kleiner Witz), aber ich kenne mich in jener Branche leider nicht aus. Die einzige Platte in meinem Plattenschrank, auf der dieser offensichtlich ausgezeichnete Musiker zu hören ist, ist "The Soul Sessions" von Joss Stone, deren Retro-Soul nicht sehr weit weg ist von Al Green. Und auch auf "Lay It Down" klingt Al Green so wie immer. Was natürlich eine gute Sache ist.


(25.06.2008)
Mehr ...